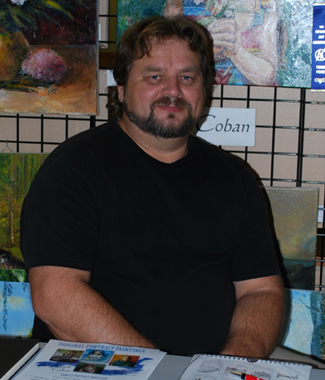 (Art Expressions 2010 - Carp)
Sample Portrait Pricelist 2014

My name is Joseph Coban
Over the years his painting style and techniques have developed and broadened. Joseph's favorite style is realism and portraiture, as well as that of old masters' paintings as they have stories and hidden messages to tell. From one day to the next, Joseph is able to switch to completely different subjects and styles. He says, "Life would be very boring if one does only one thing over again and again".
" The diversity in my life is represented in the diversity of my paintings. I work in oil, but I do not feel limited to only one medium and style since all of them have pros and cons. When I work on a painting, I set priorities based on the subject to be worked on. Whether it needs detail (portraits), mood (landscapes), technique, or usage for another media (print), the most important thing is that I add some personality in my paintings.
From my website you can see that I work from portrait to abstract. Paintings look detailed, but I try to avoid the photographic look. The painting has to have some "charge" from the artist, so to speak.
It is very hard to find the proper words for this, but I try to explain it. Every original painting has an "aura". This aura is an energy that one might feel in the painting and it disappears in copies of the original work."
Represented by The Gallery STEINER, Vienna, Austria at Art Beijing 2013, Shanghai Art Fair 2014, schedulled Solo Exhibition April - May 2016.
Amsterdam Whitney Gallery, New York (2013-14).

Rothwell Gallery, Ottawa, Solo show Sept 2015, representation since 2015.
Norman Felix Gallery, Toronto, representation since 2015.